Regional. Salubrious. Excellent.
Contentment at the dinner table. Home-grown delights at our restaurant. With its sumptuous and salubrious menu the Erzherzog Johann restaurant will surprise you.

Besides the natural attractions of South Tyrol, our guests seek a gourmet experience. While the cuisine at the Erzherzog Johann is unabashedly South Tyrolean, we specialise in a creative blend of Alpine and Mediterranean styles. Caringly prepared with natural, regional ingredients.

South Tyrol on a platter. Also by the glass – see our comprehensive wine list.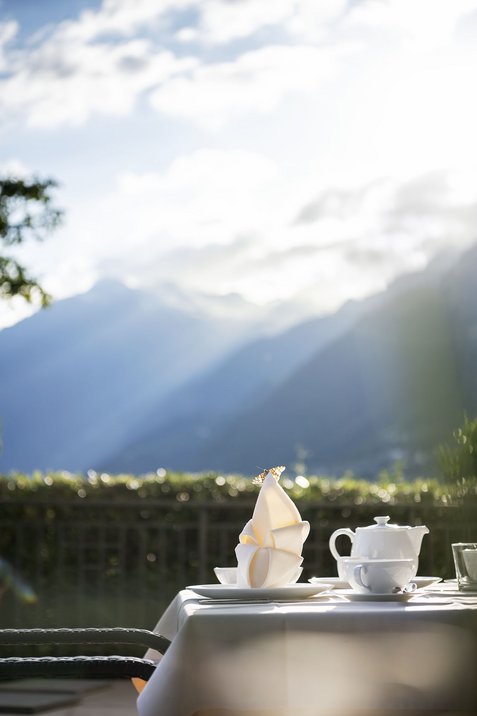 A salubrious start to the day
Breakfasts outside on our panoramic terrace, under the gentle rays of the morning sun … the aroma of fresh coffee wafting in the air. An inspiring way of starting the day.
Until the eye falls on the breakfast buffet …!

Fresh bread and homemade pastries, apple muesli ('Archduke Johann' style), farm eggs (as you like them) and cold cuts (including traditional Passeirer speck-bacon). With various kinds of cereals and nuts to 'turbocharge' your muesli.
Something for everyone. And more besides.
If you suffer from dietary intolerances or have special preferences, we can help personalise your dinner menu. Perhaps you're vegan or vegetarian. We do it all. Otherwise, our standard menu offers plenty to choose from. Don't forget the rich cheese buffet. Our fresh salad buffet offers creative combinations of more than 15 kinds of greens with healthy homemade dressings. Decisions, decisions!

Culinary highlights. Weekly Sunday Gala Dinners with wine pairings are a pleasant distraction. Buffets and/or fixed menus, including starters/pasta dishes, in a springtime or Tyrolean themed menu. Hearty farm fare might also be the theme of the day!

Thanks to our special children's menu even the kids won't miss out on the fun. And our homemade desserts and weekly dessert buffets are a treat for those with a sweet tooth!